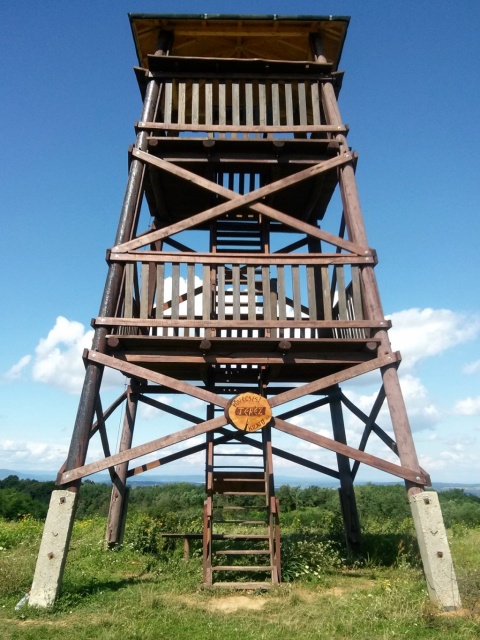 Belvedere "Teréz" on the peak of Kōvecses
Belvedere "Teréz" on the peak of Kōvecses
Without tender, on our own effort
In 2009 we composed a tender for a look-out tower, with the support of contractors we prepared a draft, we asked and got the permission of renter and owner of territory. In 2010 we could not submit a tender, because neither our association nor our sponsor and the self governement did not have so much money to solve the pre-financing. We decided to build the look-out tower under own steam, with our hands, looking for supporters of material and using the self-source of our association.

In 2011 we applied tothe authority for building permit, we have got the permission so we began the shaping of granted wooden material.

Our eager member Vanya Gyuri made the scale modell of looking-out tower and in autumn 2013 under his organization and direction we succeeded in setting up and mounting of the construction on Kövecses hill. This process involved nearly 1000 work hours of our volunteers.

Because of autumn weather and slippery landroads finishing works were postponed for spring 2014.

The ribbon cuttig ceremony was held on 26. April 2014.

Photos about the ceremony:
Belvedere "Teréz" on the peak of Kōvecses
Starry path
There is a tour of 2km assigned with panel pictures starting from Csesztve. At half of the path you can reach the looking-out tower named Teréz on the hill Kövecses. The path is called Starry path, because there is an excellent clear view of stars at night since there is no light pollution. Along the path we put 9 panel pictures which contain the galaxy and stars, our solar system, the illustration of birds and animals with their traces found in this country.


Let's protect the environment!
We ask the passers-by not to leave refuse on the spot, not to light a fire and we ask to help in supporting the maintenance of the look-out tower!

Supporting
We ask our visitors to help our maintenance work in order to enjoy the unique panorama between Csesztve and Safari Park of Nyírjes for the excursionists.

(By the time the belvedere was built up we can begin the painting works again...)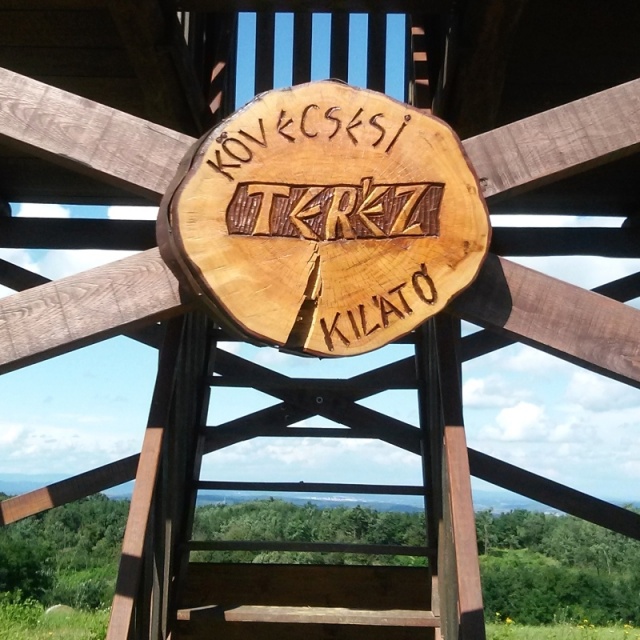 Thanks to our sponsors!
Thanks to our sponsors!
Without the firms and people below written we could not delight in the panorama. There were people who gave money, others gave materials or services and there were people who helped us with effective work.
| Sponsor | Money | Materials, services | Work | |
| --- | --- | --- | --- | --- |
Bako-Biofalu Kft.
X
Balogh Péter
X
Bánfi Batus
X
X
Békési János
X
Berkes József
X
Boldog István
X
X
Csekey László Dr.
X
Csesztve Község Önkormányzata
X
Fábián Zoltán
X
Frenyó András
X
Frenyó Gábor
X
Gattyán László
X
Gattyán Levente
X
Gattyán Vendel
X
Háló Anikó Dr.
X
Hugyecz Józsefné
X
K és K Festékmester
X
Kalmár Attila
X
Kelemen Zoltánné
X
Kiss Pál Dr.
X
Koczur István
X
Körjegyzőség Szügy
X
Kőszeghy Attila
X
Kruj Andor
X
Krupa Ákos
X
Krupa András
X
Krupa Gábor
X
X
Krupa Richárd
X
Krupa Szilveszter
X
Márton Ervin
X
Máté Milán
X
Medvegy László
X
Mócz Zoltán
X
Ország Dávid
X
Pál József
X
X
Pauló Péter
X
Perédi Piroska
X
Petrovecz László
X
Prazsák Gábor
X
Rácz Gergő
X
Rácz Jenő
X
Rácz Samu
X
Roza Szabolcs
X
Schneider-Terv Bt.
X
Szabó Lénárd
X
Szabó Péter
X
Szekeres Tiborné
X
Szentirmay Judit
X
Szklenár József
X
Szugyiczki János
X
Szugyiczki Viktor
X
Szunyog László
X
Szvák Ádám
X
Szvák Péter
X
X
Szvák Peti
X
Szvák Richárd
X
Táborszki János
X
Toldi 98 Kft.
X
Tóth Zsolt
X
Valent János
X
X
Vanya György
X
X
Vanya Györgyné
X
Vanya Teréz
X
Veszelovszki Sándor
X
X
Zérczi István

Csesztve

X
X
X