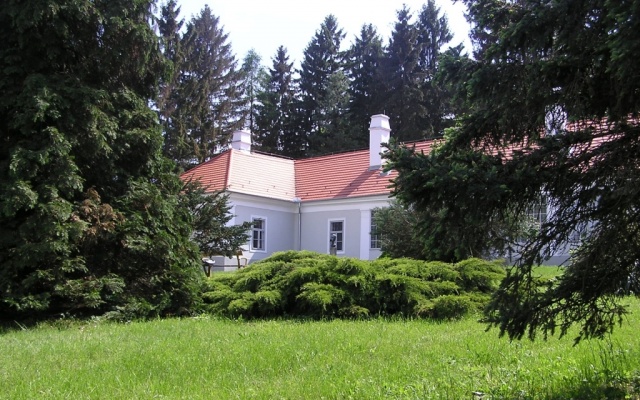 Imre Madach Memorial House
Imre Madach Memorial House
Imre Madach Mansion
Building of nationwide scheduled monument.
Imre Madach was living in Csesztve from December of 1844 to September of 1853. His children were born here. In this period Madach took an active part in political life of county Nógrád including the revolution of 1848, too. In August of 1862 he entertained János Arany, who discovered first time his drama Tragedy of man.
Imre Madach Memorial House
At present there is a museum in the building of Madach Mansion
H-2678 Csesztve, 7 Kossuth street
Phone: +36-344-319, Mobile: +36-20-484-3090
E-mail: madachemlekhaz@gmail.com

Opening hours: 10:00-14:00 everyday except Monday

The museum recalls the life and work of Imre Madach with period documents. Among his personal furniture his cradle also can be found here. One can see several editions and illustrations of Tragedy of man.
Imre Madach Memorial House
The permanent exhibition leads on the life of Madach-family, evokes that period, provides an overall review of life and art of Imre Madach - taking into the focuse the Tragedy of man, its literary and theatrical importance.

The Madach museum of Csesztve is the single Madach memorial place in Hungary. The poet of Tragedy of man lived in the mansion of small village of Nógrád in the years 1844-1853. Many of his letters, poems, confessions were dated from Csesztve, he lived here his early happy years of his marriage after 1845 with his wife Erzsébet Fráter.

In August of 1862 the mansion house was a scene of a significant meeting: as the memorial tablet refers to it Madach received here János Arany, the discoverer of Tragedy of man. From 1964 the mansion house is museum, its park is nature reservation. It's a great pleasure to walk, to have a rest in the park of the mansion.

Traditional organization of Csesztve is memorial day held in honour of Madach in beginning of October. In this context on the lectures are published the latest results of research of the poet's works.
The permanent exhibition renewed in 2012 is completed by various modern technical tools. On the mini-stage visitors can play various scenes of drama in period dress, they can have a look at several adaptations for stage and cinema. Use of headphones is free of charge.
The renovation of museum took place by EU-sponsoring together with Madach museum of Alsósztregova. In Alsósztregova there is also an attractive museum which raises nice memory of the poe. The distance is 40 km, one can see the description of museum of Sztregova and the way on map on links below on our website.

www.google.com/maps/dir/Cseszt ...