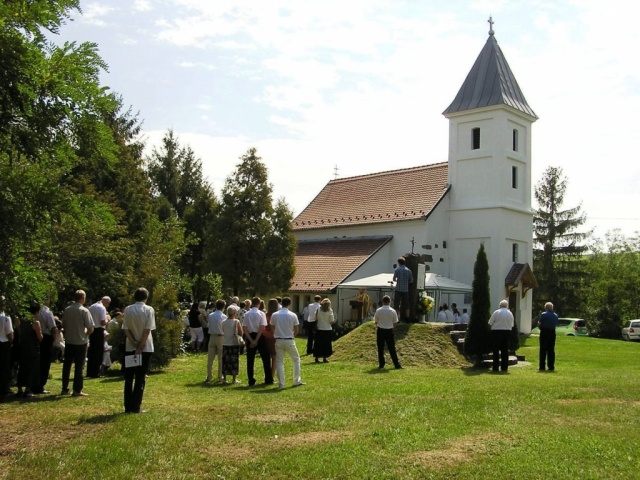 Saint Martin catholic church
Saint Martin catholic church
National monument.
H-Csesztve, Kossuth u. 98.(topogr. No.1.)
Phone: +36-35-344-428 visit only at preliminary notice, no entry fee.

The settlement is famous also about his church set up in the 13. century having on itself romanesque and gothic signs equally.
Saint Martin catholic church
By the records setting up of the church was in 1212, the building was mentioned in the presbitery register of 1382. The church with romanesque signs was re-built with gothic parts at about in 1450. The church has one nave, facing to east, start forwarding middle-tower. Its tower is simple, has four levels, the walls of nave are from the middle age. Its apse is narrow, octagonal, with three sides closing, two semicircles, with romanesque windows and gothic piers. Its font is from XIV century, a piece of medieval altar is built in the present altar. The pulpit has rococo style and it is situated on the northern side of triumphal arch of the nave.

In the time of Turkish thraldom the apse was fell in but the medieval church existed till 1713. Afterwards the church was re-built in baroque style. The present shape of apse was set up in1717, but it didn't remain for a long time since in 1731 it was burnt. In 1753 there was another fire, the recent shape of apse was built in that time. The fourth baroque building was going on in 1792 and by the datas of presbytery the building of tower can be dated this year. In 1885 the tower was raised with a meter, in 1914 a new vestry was built to the southern side of the church. The oldest, not dated bell was made probably in 1760-63 years. The recent state of church was made by its renewal in 2008.

By the script of Nándor Kálnay - teacher of Madách' children - the church was built in 1212, this date is graved on an arch-stone which bears witness to it. Jenő Rácz - archeologist, restorer, calvinistic parson living in Bakópuszta - referring to his research states, that since before the rush of Tartar people the settlement was in Valley Miklós, so no church could be on this site. After the invasion the settlement destroyed by Tartars moved in the place of recent village, so the church could be built in the second half of XIII. century. The number graved in stone can be read also 1272.
In any case the Catholic Church and the village celebrated properly the existence of 800 years of St.Martin church in 2012.